During winter and colder months, it's worth having the best equipment possible indoors, in your team's gyms and other sports training facilities, to maintain high levels of professional athletic fitness, readiness, and performance. 
The SHREDmill is a more advanced treadmill, and it comes with an app that "help[s] maximize athletes' genetic potential and avoid roadblocks to elite performance, such as injuries, lack of training time, and improper equipment." 
One of the main advantages of a SHREDmill, apart from it being a high-performance piece of indoor running equipment, is: "Once peak speed is achieved, the intuitive SHREDmill software builds a custom training plan that adapts to every athlete's shifting speed needs." 
Data-backed, Gear-driven: SHREDmill Fitness Training 
One of the first things you need to know from trainers and performance coaches who use the SHREDmill is this device's use of gears. A SHREDmill can deploy three main categories of sprints:
Gear 2—High resistance, zero incline

. The aim with the second gear is to reach approximately 50% of an athlete's maximum ground speed velocity. This is known as the "force" phase. Gear 2 reps are five seconds in duration and are designed to improve steps two to five in a normal ground sprint.

Gear 3—Medium resistance, 10% incline

. The aim with the third gear is to reach 75% of an athlete's maximum ground speed velocity. This is known as the "force to form" phase. Gear 3 reps are five seconds in duration and are designed to improve an athlete's gear shift to maximum velocity.

Gear 4—Low resistance, 15-20% incline

. Now, with the fourth gear, this should ensure an athlete gets as close to their maximum ground speed as possible, simply known as "form." Gear 4 has the most built-in flexibility, and this adapts to an athlete's individual needs. Sprint durations are five to ten seconds but can go longer, and it's like having a really long hill in the warmth of your fitness center or gym. 
Gears are only one of the reasons coaches need to invest in in-door running equipment such as a SHREDmill. There are other advantages and functionality to consider that make this a worthwhile sport-agnostic athletic training device.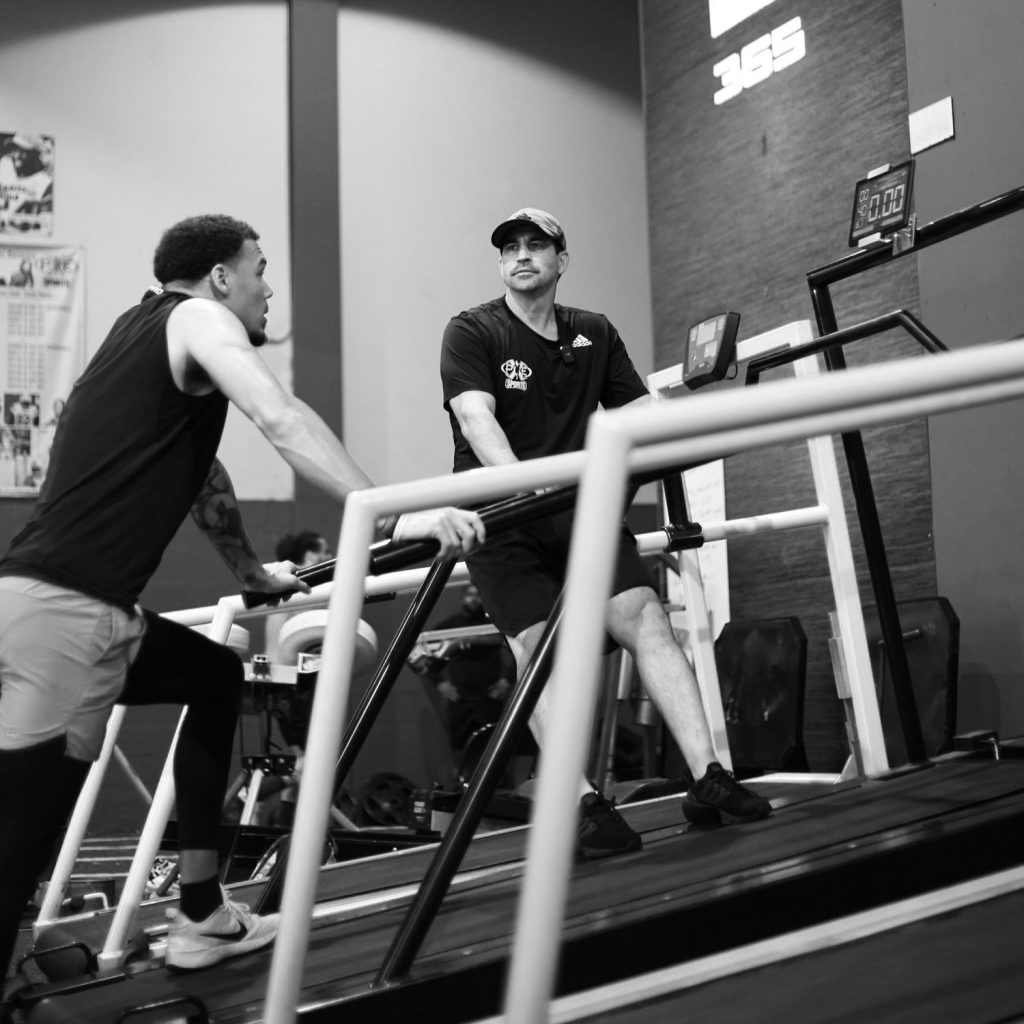 SHREDmill Functionality
A SHREDmill comes with numerous advantages, such as: 
SIMULATES GAME SPEED: Self-propelled, scientifically, data-backed, and proven technology puts the athlete's movement in complete control of the momentum. 

CREATES SMARTER STRIDES: With SHREDmill's patented magnetic resistance system, athletes can stay hyper-focused on the proper form needed to generate maximum speed on the field. 

SAVES SPACE AND TRAINS ATHLETES IN ALL 4 SEASONS: Train teams in record time with SHREDmill's compact design and training methodology that eliminates the need for multiple machines and can be used whatever the weather. 

PREVENTS INJURY: Short training sessions won't exhaust or limit athletes on training days. The SHREDmill ensures athletes use proper biomechanics, creating stronger joints and mitigating injury in competitive games and training sessions. 

PROVIDES INSTANT FEEDBACK: Athletes' running form, power, and stride length/frequency with efficiency are constantly being fed back into the software, showing speed to the tenth of an MPH. This way, athletes and coaches have the data they need to measure and improve performance, and the app can be connected to other biometric and sports performance systems and software.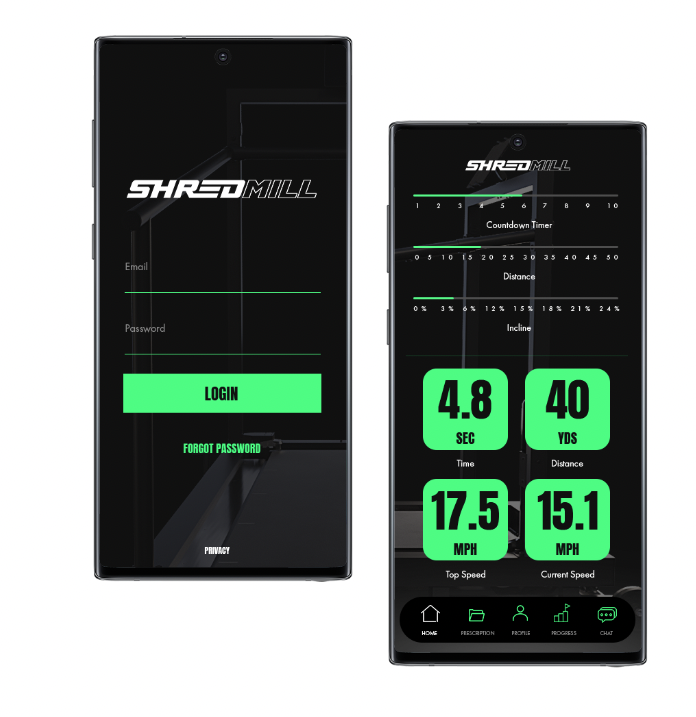 One of the many advantages of using a SHREDmill is the ability to improve an athlete's acceleration and maximum velocity mechanics with resistance in a small footprint (94 inches x 41 x 75 when the SHREDmill is raised to its highest point). 
A SHREDmill uses magnets to create an eddy current, which creates resistance based on the resistance setting (picked via the gears) and the speed at which the user gets the belt to move. The advantage is that the faster an athlete gets the belt to spin, the more resistance is created. This saves a lot of time because once the desired resistance is set, you can simply cycle athletes through—the magnets create the level of resistance that is required to hit the percentage of max speed desired.
Variable resistance and assistance devices are the gold standard due to versatility and data captured, their workflows aren't close to what the SHREDmill can accomplish. It's one of the reasons so many coaches are switching to these instead of other similar but not as effective training devices.  
For comparison, a strength and conditioning coach can support a group of 40 athletes who each get 3 x 5-second sprints on the SHREDmill in under an hour. On an outdoor track (not ideal in bad weather) or using other devices, that could take 1.5 – 2 hours, and your team won't get the resistance or data-backed benefits as using a SHREDmill. 
How to use a SHREDmill for Athletic/Team Player Training
To begin with, a SHREDmill comes with a suggested 10-week training structure. You don't need to stick with this, as it would make sense to tailor how the device is used to every player's current training and strength and conditioning plan. 
One approach for using the SHREDmill effectively is with circuit training. 
An example of this is a 10m fly with a 10m build as a way of achieving maximum velocity in a session (3 to 60m blast/bleeds). 
Sprint drills can be achieved using gear 2 to create a big thigh split (opening scissors), followed by an aggressive close. This movement is found in speed bounding and acceleration wall switching. Circuits are a great way to link them to the task they are designed to assist.
Data capture is one of the major advantages of using a SHREDmill. Two of the main metrics the SHREDmill captures are peak velocity and distance, so auto-regulation principles can be followed if desired. 
As you can see, this is a device worth investing in, as professional athletes are happy to promote: 
"The SHREDmill has helped me tremendously. Just from the technique of having to run correctly, you can see how people's stride length and power improve."
Anquan Boldin, NFL player, San Francisco 49ers 
"Working on the SHREDmill and working on the little details of my form helped me get my stride and power back after ACL surgery."
Eric Berry, NFL, Kansas City Chiefs 
"The proof of the SHREDmill? Just look at my stats after I started working out on it. I believe in it, and I bought one."
Mark Ingram, NFL, New Orleans Saints 
Would your team, club, youth association, or sports association benefit from XPS and its wide range of features? Contact XPS Network if you want to find out more, or Sign-up for a Free Trial today.