In another read-worthy XPS book review, we're introducing you to The Score Takes Care of Itself by Bill Walsh. 
Bill Walsh is a 3-time Super Bowl winner and Hall of Famer. He's a legend in the world of American Football, taking over the San Francisco 49ers in 1979 when they were the worst-performing franchise in the league. 
Under the leadership of Bill Walsh, the team was transformed, winning the Super Bowl only three years later and twice more, creating one of the strongest sporting dynasties in the NFL. 
His hard work paid off for the team, franchise, and his career, earning Bill Walsh a place in the Pro Football Hall of Fame and numerous other accolades and awards. Walsh went on to serve as General Manager and President of the San Francisco 49ers (1979 – 2000). 
Not only did Walsh's leadership and organizational skills have a massive impact on the 49ers, but he also mentored some of the most impressive coaches in NFL history, including Peter Carroll, Mike Holmgren, and George Siefert. All of whom went on to win Super Bowls of their own. 
It goes to show that exceptional leaders nurture and help to create other exceptional leaders. Making this book well worth reading!
Prior to his death in 2007, Walsh was interviewed by best-selling author Steve Jamison, who turned these into The Score Takes Care of Itself: My Philosophy of Leadership. It was published in 2010 by Penguin, and you can buy the paperback, Kindle, and Audiobook versions on Amazon and other booksellers.  
With that introduction, let's dive into what coaches can learn from the leadership philosophy and strategies of Bill Walsh. 
What can you learn from The Score Takes Care of Itself? 
There are numerous lessons for sports coaches and anyone in a leadership position, whether you're a senior manager, head of a department, vice president, or CEO. 
Let's hear it from the man himself, Bill Walsh . . .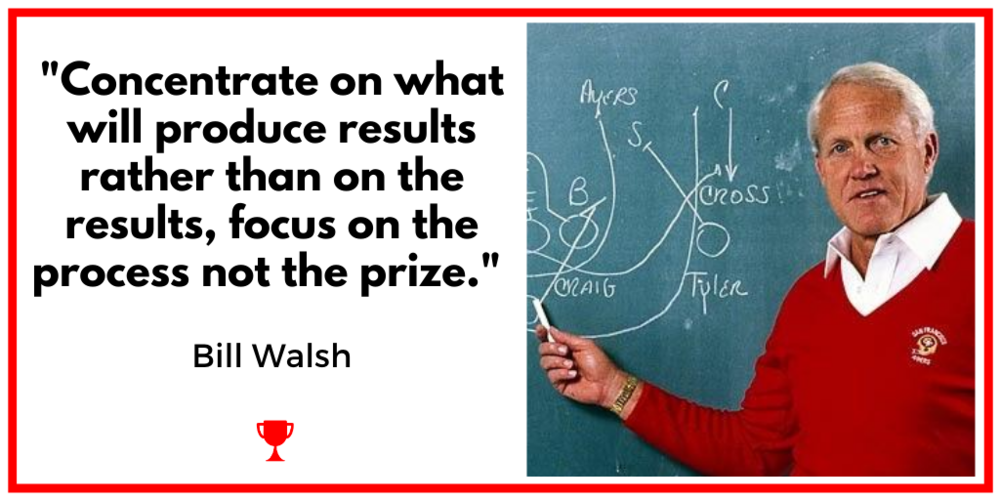 High performance comes from strengthening specific skills and actions 
Excellence can become the default. Rather than something that requires special effort from players. 
Performing at a high level starts with analyzing the specific physical skills and actions that players need to take and then turning them into repetitive training and coaching exercises. 
"After careful analysis, [the coaches] identified thirty specific and separate physical skills—actions—that every offensive lineman needed to master in order to do his job at the highest level, everything from tackling to evasion, footwork to arm movement."
"Our coaches then created multiple drills for each one of those individual skills, which were then practiced relentlessly until their execution at the highest level was automatic—routine 'perfection.'"
Winners win because the belief they will win is instilled long before competitive games
Winning is a mindset. It's as much mental as physical, especially in professional sports. 
Before Walsh took over, the 49ers were losing more games than they won. 
He turned it around. And it started with self-belief, a mindset shift that turned the team into champions. 
"The 49ers self-perception was improving; individuals began acting and thinking in a way that reflected pride and professionalism, even as we continued to lose games."
"The culture precedes results. It doesn't get tacked on as an afterthought on your way to the victory stand. Champions behave like champions before they're champions; they have a winning standard of performance before they are winners."
Culture, including team cohesion, is crucial for creating teams that win games, leagues, and championships. 
Standards and processes ensure your team thrives under pressure 
When Walsh took over, the 49ers were under pressure to start winning. As an NFL franchise, the team was in trouble. Walsh transformed them. 
One of the main ways he achieved this was by creating a Standard of Performance (processes and ways of playing) that made it easier for them to cope in pressure-packed situations. 
Instead of urging players to "try harder", they performed at an increasingly higher level through more effective processes and standards.  
"By focusing strictly on my Standard of Performance, the 49ers were able to play the bigger games very well because it was basically business as usual—no "try harder" mentality was used."
"You must reach back and rely on your ability to do things at a high level. There isn't much time to meditate or think things through. The pressure of the situation can just wipe that all out, and you're left with the raw bones."
In sports at every level, work, standards, and preparation are everything. 
You can't control everything: But you can control 80% of what happens 
Again, this comes down to work, standards, and preparation to ensure you've got control of 80% of what happens in training, pre-season, and competitive games. 
"I accepted the fact that I couldn't control that 20 percent of each game. However, the rest of it—80 percent—could be under my control with comprehensive planning and preparation."
Make your athletes believe in themselves 
"The most powerful way to do this is to have the courage to say, 'I believe in you,' in whatever words—or their equivalents—constitute the most inspirational message a leader can convey. There are many ways to do it, but the underlying message should be the same, 'I believe in you. I know you can do the job.'"
Self-belief is another crucial factor in creating a high-performing, championship-winning team.
As one of the many positive reviews of this book says: 
"Bill Walsh was one of the NFL's all-time best; a creative genius, a master at management, and a brilliant student of human nature. The Score Takes Care of Itself is his own personal and powerful road map to success as a leader, whether in professional football or anywhere else. Terrific reading; tremendous insights." Roger Goodell, NFL Commissioner. 
Do we recommend The Score Takes Care of Itself by Bill Walsh? 
Absolutely, it's a book that every coach and sports leader should read! We thoroughly recommend it, and you're sure to learn things that you can put into practice. 
Would your team, club, youth association, or sports association benefit from XPS and its wide range of features? Contact XPS Network if you want to find out more, or Sign-up for a Free Trial today.