In this XPS Monday Series, we are introducing book reviews, starting with: 
Nick Winkelman: The Language of Coaching: The Art & Science of Teaching Movement (Human Kinetics, Inc.; 1st edition (2020), Paperback) 
For coaches, this is a useful and powerful book to read. Communication is so important in coaching, especially when it comes to the relationship you have with players. Without effective communication, the player – coach relationship is never going to be as strong as possible. 
This book, Nick Winkelman's The Language of Coaching is designed to help coaches communicate more effectively with players. 
The Language of Coaching at a Glance 
Published in 2020, at over 300 pages, The Language of Coaching is an engaging read. It takes readers on a journey of understanding how to communicate more effectively. Weaving together practical exercises with imagery, and stories from the author's career as a coach, speaker, and consultant on human performance and coaching science. 
The book moves through three core sections: Learn, Coach, Cue. At first, the reader is introduced to the science behind learning, attention (why certain things stick, why they don't), and memory. 
Next, it outlines an understanding of how what we say influences the actions and behaviors of others. And finally, the book focuses on what coaches can say to get the outcomes they want.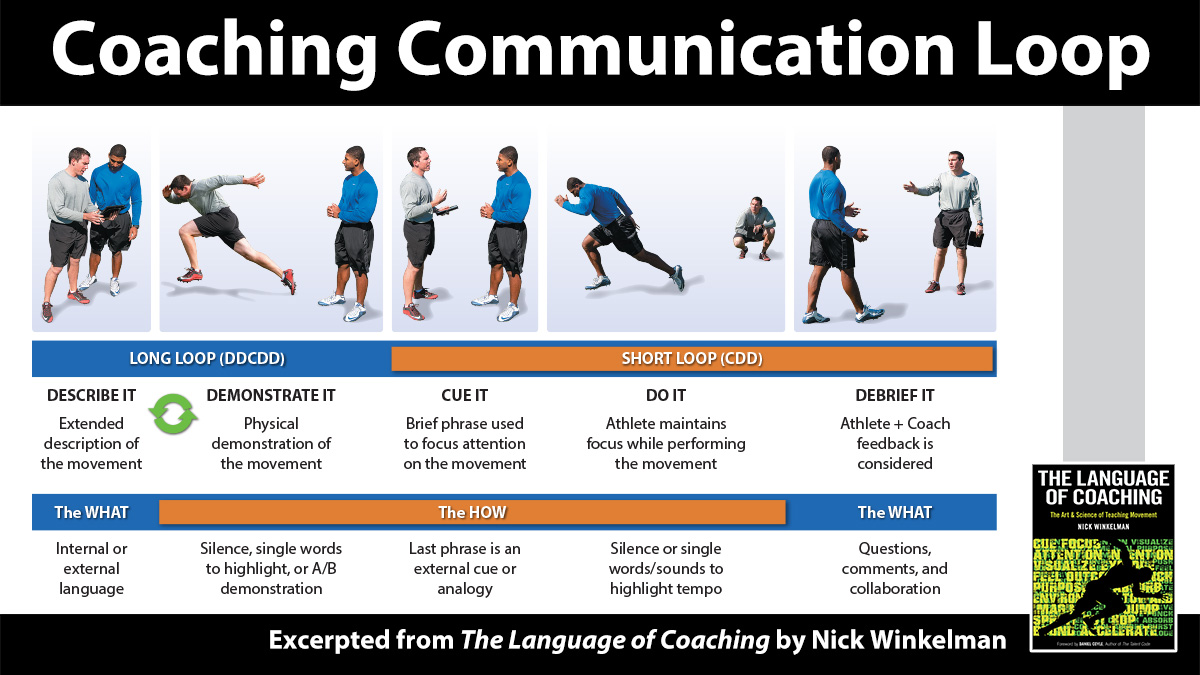 Why is this book highly recommended? 
Firstly, it's practical, rather than theoretical, which is exactly what coaches need. 
In the blurb, it says there are "over 25 movement sequences that outline different types of coaching cues, including a visual depiction of unique analogies, such as a sprinter taking off like a jet or an athlete loading into a jump like a spring."
Within the book are a "comprehensive collection of cueing frameworks that guide you through the process of creating your own cues for any movement you want to teach."
Secondly, it comes with dozens of positive reviews from coaches and experts in the sports coaching, sports science, and coaching sector: 
"It would take you an entire career of coaching to pick up, just by chance, some of the competencies he outlines–and even then, you'd come up short. Nick's work will fast-track coaches to effective communication–and, in turn, outstanding results–for their athletes and clients. I wish I'd had this book 20 years ago!" Eric Cressey, CSCS, President and Co-founder of Cressey Sports Performance. 
"Nick Winkelman is what I like to call a 'coach's coach.' He is one of the few people I lean on for advice in our industry. He's my go-to resource. I will be gifting The Language of Coaching to dozens of coaches and athletes." Don Saladino, Celebrity Trainer, Health and Performance Specialist, and Founder and Owner of Drive Health Clubs. 
"The Language of Coaching is a groundbreaking and meticulously researched book that delivers practical and user-friendly ways for a coach to connect for results. This book should be on every coach's shelf."  Martin Rooney, Founder of Training for Warriors; Coach to Hundreds of NFL, UFC, NBA, WNBA, MLB, and Olympic Athletes; and Author of Coach to Coach. 
Thirdly, and the reason this book is so useful to coaches is the work behind it has made an impact at the highest levels of various sports. 
For example, Nick's implementation of the National Football League (NFL) Combine preparation program at EXOS was a success. Following on from that, his work contributed to the successful refresh of the Irish Rugby Football team. It helped them win against the All Blacks, New Zealand's national rugby team, one of the most successful in the world. 
Key Takeaways: Why do we recommend this book? 
Communication is so important in any sport, profession, and career. For coaches, how you communicate with players has a direct impact on performance. Understanding how to communicate more effectively can make a huge difference. 

Nick is a "coaches coach." He knows what it takes to be a successful coach, and therefore how to communicate in the right way to make a positive impact on team performance. 

In the book, there are over 25 cue routines and sequences coaches can use to get more out of their players, change behaviors, and improve performance. It will have a noticeable impact on your ability and performance as a coach. 
Would your team, club, youth association, or sports association benefit from XPS and its wide range of features? Contact XPS Network if you want to find out more, or Sign-up for a Free Trial today.
About the author, Nick Winkelman:
"Nick Winkelman, PhD, is the head of athletic performance and science for the Irish Rugby Football Union. His primary role is to oversee the delivery and development of strength and conditioning and sports science across all national and provincial teams." 
"Prior to working for Irish Rugby, Winkelman was the director of education and training systems for EXOS, where he directed the development and execution of all educational initiatives. As a performance coach, he oversaw the speed component of the EXOS NFL Combine Development Program, and he has supported a variety of athletes across professional and elite level sport." 
"Winkelman completed his doctorate through Rocky Mountain University of Health Professions with a dissertation focus on motor skill learning and sprinting. He is a recognized speaker and consultant on human performance and coaching science. He has written numerous book chapters and peer-reviewed papers focusing on the intersection between coaching language and athlete learning."